(updated 8 February 2012, 11:00pm)
A screen shot is a picture of your computer screen, in whole or in part. For example, a few screen shots I have used on my blog:
Screen shots are helpful when you need to incorporate what you see on web pages into essays, blogs, videos, and other documents you are creating. As with most things, Macs and PCs do this in slightly different ways.
Taking and Saving Screen Shots on a Mac
To take a screen shot of anything on the screen using a Mac, hold down at the same time:
SHIFT + Command Key + 4
The Command Keys, also known as the Open Apple keys, are to the right and left of the Spacebar, and look something like this:
This will bring up a cursor that looks like a large + sign. Move the cursor to the top left of the area of the screen you want to capture. Click, hold, and drag the cursor over the entire area. Release the click. You may hear a sound that sounds like a camera shutter.
An image will automatically be saved to your desktop (or wherever the default save is on your computer), called Picture #.png.
Taking and Saving Screen Shots on a PC
To take a screen shot on a PC press the PRINT SCREEN button. The PRINT SCREEN button is located in the upper right of most PC Keyboards, to the right of the F12 key, and amongst these keys: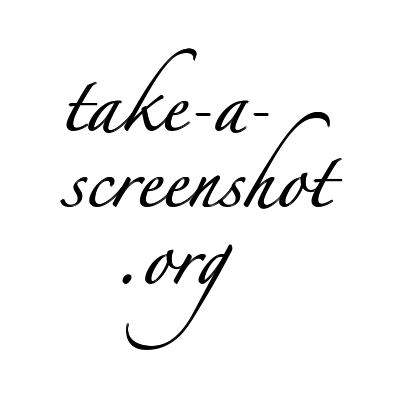 This will save a copy of the image on your screen to your clipboard (a virtual space on PCs that hold copied items). In order to save it to your computer, we need to do a few things. First, open Microsoft Paint (included in all PCs with Windows XP and Vista), by going to:
Start –> All Programs –> Accessories –> Paint
In Microsoft Paint, go to View –> Paste. The image will appear. Go to File –> Save As. In the Save As window, select the location where you want the file to be saved, name the file, select .GIF from the Save As Type pull-down menu, and click Save.
Editing your Screen Shot
Unless you have access to a desktop photo editing application (like Photoshop or Fireworks) and are comfortable using it, I recommend using the fun, easy, free, and useful online application called Picnik to edit your screen shots (or, try any of these 10 way cool online editors). On Picnik (or any of the others) you can edit, crop, add text, boxes, and many other things to your screen shot, then re-save the edited image to your computer so that it can be used later.
When using a PC, Microsoft Paint is an excellent option for quick edits when using the Print Scrn option discussed above. Simply take your screen shot, open Microsoft Paint, and then paste (CTRL + V). The screen shot will appear. You can then edit it using Paint's editing options.
If you are not concerned with having as much precision in your editing, you can use Word to edit and crop down the image. To edit and crop in Word, use the following steps:
After the screen shot is taken in Mac and PC, open Word. On a PC press CTRL + V to paste in the image. The image will appear. On a Mac, got to Insert –> Picture –> From File and select the image.
Click 1 time on the image, which will bring up the Imaging toolbar (in the Mac, it will be in the Formatting Palette).
Edit the image using the Crop and Wrapping features in the toolbar or formatting palette.
Adding Screen Shots to Various Applications
Adding screen shots is just like adding any image or photo that you have on your computer. Here, however, are some quick tips.
iMovie HD, '08 and '09
In iMovie HD, click on Media and then Photos. Select your image from the menu. In iMovie '08 and '09, click on the Camera icon and then select your image from the menu. Note that your image must have been imported into iPhoto. You can also just drag any image on your computer into iMovie.
Microsoft Word
To add the picture to a Word document, go to Insert –> Picture –> From File, and select the picture. Click on the image to activate the Picture toolbar or double-click on the image to activate the Format Picture window. Or, after the screen shot is taken on a PC using the Print Screen option, open Word and press CTRL + V to paste in the image. The image will appear.
Microsoft Photo Story
On the Import and arrange your pictures page, click Import Pictures, and follow the menu instructions.
Windows Movie Maker
With Tasks activated, click Import Pictures. Or, go to File –> Import Into Collections. Once imported, drag the image into the Video Track.
WordPress Blogs
In Add Post screen, click the Add Image icon directly to the right "Upload/Insert," and select your image from your computer.
Using Third-Party Applications for Screen Shots of Web Sites
(Note: Screengrab is no longer being updated and will not work in Firefox versions 9.0.1 and higher.)
There are several free applications that facilitate taking screen shots of Web sites. My current application of choice is the Firefox plug-in, Screengrab. It is an easy and effective way to take screen shots (H/T @aheartofstars). All you do is right click (or on the Mac, control + click), and hover over the Screengrab! option in the menu. You will see options for Save and Copy.
There are four options for both Save and Copy:
Complete Page/Frame will save or copy the entire web page, including that which isn't visible.
Visible Portion will save or copy only the portion of the web page that is visible at that moment.
Selection allows you to select exactly which portion of the page you want to save or copy.
Window saves or copies the entire window, including the Firefox browser border, toolbars, and so on.
Of the four, Selection provides the most flexibility and is the one I use most often.
If you want the opportunity to take a screen shot and connect directly with an online image editing applicaton, you can download and install the Picnik Firefox Plug-in, This plug-in allows you to take a screen shot and send it directly to your Picnik account (see below for description of Picnik). This video explains (rather too quickly) the process: